BRAZIL NUT, dry
Scientific Name:     Bertholletia excelsa
NDB No:     12078
BRAZIL NUTS are the seeds of giant trees in the Amazon rainforest.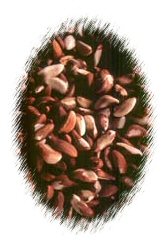 Their pollination is so specialized that Brazil nuts have not been successfully farmed. Income from harvesting and shelling supports tens of thousands of native families and protects nut areas from deforestation.

Selenium is extraordinarily high, averaging 14 RDAs per oz. (about 7 nuts) in nuts bought in the shell (shown here) and about 1.4 RDAs if pre-shelled. The difference derives from the two products having different geographic origins. Brazil nuts are also good sources of magnesium, phosphorus, boron, copper, linoleic acid, vitamin E, and thiamin.



Proximates
Water

g

0.99

Energy

kcal

186

Energy

kj

778

Protein

g

4.06

Total lipid (fat)

g

18.83

Ash

g

1.00

Carbohydrate, by difference

g

3.48

Fiber, total dietary

g

2.1

Sugars, total

g

0.66

Sucrose

g

0.66

Glucose (dextrose)

g

0.00

Fructose

g

0.00

Lactose

g

0.00

Maltose

g

0.00

Galactose

g

0.00

Starch

g

0.07

Minerals
Calcium, Ca

mg

45

Iron, Fe

mg

0.69

Magnesium, Mg

mg

107

Phosphorus, P

mg

206

Potassium, K

mg

187

Sodium, Na

mg

1

Zinc, Zn

mg

1.15

Copper, Cu

mg

0.494

Manganese, Mn

mg

0.347

Selenium, Se

mcg

543.5

Vitamins
Vitamin C, total ascorbic acid

mg

0.2

Thiamin

mg

0.175

Riboflavin

mg

0.010

Niacin

mg

0.084

Pantothenic acid

mg

0.052

Vitamin B-6

mg

0.029

Folate, total

mcg

6

Folic acid

mcg

0

Folate, food

mcg

6

Folate, DFE

mcg_DFE

6

Vitamin B-12

mcg

0.00

Vitamin A, IU

IU

0

Vitamin A, RAE

mcg_RAE

0

Retinol

mcg

0

Vitamin E (alpha-tocopherol)

mg

1.62

Tocopherol, beta

mg

0.00

Tocopherol, gamma

mg

2.23

Tocopherol, delta

mg

0.22

Vitamin K (phylloquinone)

mcg

0.0

Lipids
Fatty acids, total saturated

g

4.291

4:0

g

0.000

6:0

g

0.000

8:0

g

0.000

10:0

g

0.000

12:0

g

0.000

14:0

g

0.015

15:0

g

0.000

16:0

g

2.576

17:0

g

0.013

18:0

g

1.643

20:0

g

0.045

22:0

g

0.000

Fatty acids, total monounsaturated

g

6.959

14:1

g

0.000

15:1

g

0.000

16:1 undifferentiated

g

0.065

17:1

g

0.012

18:1 undifferentiated

g

6.867

20:1

g

0.015

22:1 undifferentiated

g

0.000

Fatty acids, total polyunsaturated

g

5.834

18:2 undifferentiated

g

5.824

18:3 undifferentiated

g

0.010

18:3 n-3 c,c,c

g

0.005

18:3 n-6 c,c,c

g

0.005

18:4

g

0.000

20:2 n-6 c,c

g

0.000

20:3 undifferentiated

g

0.000

20:4 undifferentiated

g

0.000

20:5 n-3

g

0.000

22:5 n-3

g

0.000

22:6 n-3

g

0.000

Cholesterol

mg

0

Amino acids
Tryptophan

g

0.040

Threonine

g

0.103

Isoleucine

g

0.146

Leucine

g

0.327

Lysine

g

0.139

Methionine

g

0.286

Cystine

g

0.104

Phenylalanine

g

0.179

Tyrosine

g

0.119

Valine

g

0.214

Arginine

g

0.609

Histidine

g

0.109

Alanine

g

0.164

Aspartic acid

g

0.382

Glutamic acid

g

0.892

Glycine

g

0.204

Proline

g

0.186

Serine

g

0.194

Other
Alcohol, ethyl

g

0.0

Caffeine

mg

0

Theobromine

mg

0

Carotene, beta

mcg

0

Carotene, alpha

mcg

0

Cryptoxanthin, beta

mcg

0

Lycopene

mcg

0

Lutein + zeaxanthin

mcg

0
USDA National Nutrient Database for Standard Reference, Release 17 (2004)