Nuts, almonds, dry roasted, without salt added
NDB No:     12063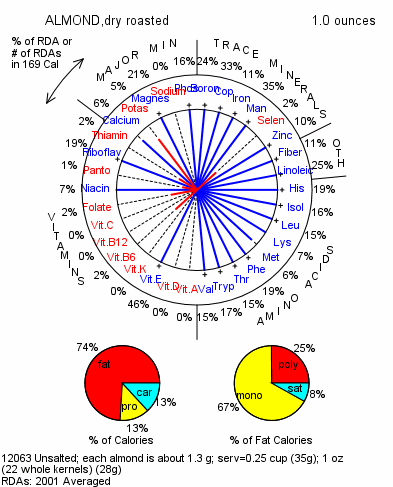 ALMOND is a leading source of vitamin E and magnesium and offers protein, fiber,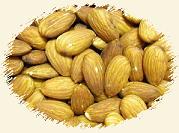 potassium, calcium, phosphorus and iron in 246 calories. Moreover, almonds and other nuts contain phytochemicals – plant components that may provide powerful protection against heart disease, stroke, and other chronic diseases.

One teeny ounce of almonds contains 12 percent of your daily allowance of protein. And absolutely no cholesterol, of course. You'll also get 35 percent of your daily allowance of vitamin E, that valuable antioxidant with so many cancer-fighting qualities. And most of the fat in almonds is monounsaturated, also known as "good" fat.

This little nut is also loaded with minerals like magnesium, phosphorus and zinc, as well as lots of healthy fiber. And don't forget calcium and folic acid – they're in there too! When you get right down to the details, it is no wonder so may people are nuts about almonds! 20-25 almonds (approximately one ounce) contain as much calcium as 1/4 cup of milk, a valuable tool in preventing osteoporosis.

It is amazing but true, just a few almonds go a long way towards healthy levels of blood pressure and cholesterol. The latest research shows that almonds may play a leading role in preventing colon and lung cancer.
Proximates
Water

g

0.74

Energy

kcal

169

Energy

kj

708

Protein

g

6.26

Total lipid (fat)

g

14.98

Ash

g

0.91

Carbohydrate, by difference

g

5.47

Fiber, total dietary

g

3.3

Sugars, total

g

1.39

Sucrose

g

1.34

Glucose (dextrose)

g

0.01

Fructose

g

0.00

Lactose

g

0.00

Maltose

g

0.04

Starch

g

0.20

Minerals
Calcium, Ca

mg

75

Iron, Fe

mg

1.28

Magnesium, Mg

mg

81

Phosphorus, P

mg

139

Potassium, K

mg

211

Sodium, Na

mg

0

Zinc, Zn

mg

1.00

Copper, Cu

mg

0.332

Manganese, Mn

mg

0.743

Selenium, Se

mcg

0.8

Vitamins
Vitamin C, total ascorbic acid

mg

0.0

Thiamin

mg

0.021

Riboflavin

mg

0.244

Niacin

mg

1.091

Pantothenic acid

mg

0.065

Vitamin B-6

mg

0.036

Folate, total

mcg

9

Folic acid

mcg

0

Folate, food

mcg

9

Folate, DFE

mcg_DFE

9

Vitamin B-12

mcg

0.00

Vitamin A, IU

IU

0

Vitamin A, RAE

mcg_RAE

0

Retinol

mcg

0

Vitamin E (alpha-tocopherol)

mg

7.37

Tocopherol, beta

mg

0.12

Tocopherol, gamma

mg

0.25

Tocopherol, delta

mg

0.04

Vitamin K (phylloquinone)

mcg

0.0

Lipids
Fatty acids, total saturated

g

1.147

4:0

g

0.000

6:0

g

0.000

8:0

g

0.000

10:0

g

0.000

12:0

g

0.000

14:0

g

0.000

15:0

g

0.000

16:0

g

0.945

17:0

g

0.000

18:0

g

0.202

20:0

g

0.000

22:0

g

0.000

24:0

g

0.000

Fatty acids, total monounsaturated

g

9.542

14:1

g

0.000

16:1 undifferentiated

g

0.071

13:0

g

0.000

18:1 undifferentiated

g

9.471

20:1

g

0.000

22:1 undifferentiated

g

0.000

24:1 c

g

0.000

Fatty acids, total polyunsaturated

g

3.586

18:2 undifferentiated

g

3.586

18:3 undifferentiated

g

0.000

18:4

g

0.000

20:2 n-6 c,c

g

0.000

20:3 undifferentiated

g

0.000

20:4 undifferentiated

g

0.000

20:5 n-3

g

0.000

22:5 n-3

g

0.000

22:6 n-3

g

0.000

Cholesterol

mg

0

Phytosterols

mg

33

Stigmasterol

mg

1

Campesterol

mg

1

Beta-sitosterol

mg

31

Amino acids
Tryptophan

g

0.056

Threonine

g

0.200

Isoleucine

g

0.204

Leucine

g

0.433

Lysine

g

0.177

Methionine

g

0.056

Cystine

g

0.083

Phenylalanine

g

0.338

Tyrosine

g

0.156

Valine

g

0.236

Arginine

g

0.726

Histidine

g

0.174

Alanine

g

0.295

Aspartic acid

g

0.805

Glutamic acid

g

1.523

Glycine

g

0.432

Proline

g

0.285

Serine

g

0.296

Other
Alcohol, ethyl

g

0.0

Caffeine

mg

0

Theobromine

mg

0

Carotene, beta

mcg

0

Carotene, alpha

mcg

0

Cryptoxanthin, beta

mcg

0

Lycopene

mcg

0

Lutein + zeaxanthin

mcg

0
USDA National Nutrient Database for Standard Reference, Release 17 (2004)