MILLET, grain, cooked
NDB No:     20032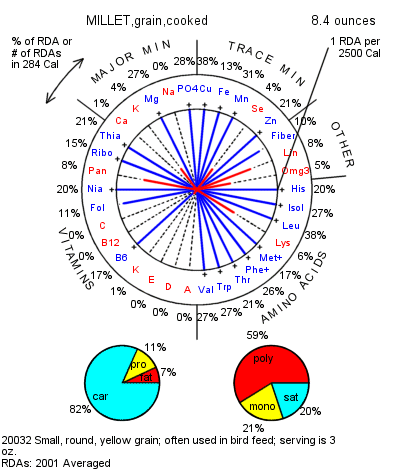 MILLET is one of the oldest foods known to humans and possibly the first cereal grain to be used for domestic purposes. It is mentioned in the Bible, and was used during those times to make bread. Millet has been used in Africa and India as a staple food for thousands of years and it was grown as early as 2700 BC in China where it was the prevalent grain before rice became the dominant staple. It is documented that the plant was also grown by the lake dwellers of Switzerland during the Stone Age.

Millet is used in various cultures in many diverse ways: The Hunza's —The Hunzas, who live in a remote area of the Himalayan foothills and are known for their excellent health and longevity also enjoy millet as a staple in their diet— use millet as a cereal, in soups, and for making a dense, whole grain bread called chapatti. In India flat thin cakes called roti are often made from millet flour and used as the basis for meals. In Eastern Europe millet is used in porridge and kasha, or is fermented into a beverage and in Africa it is used to make bread, as baby food, and as uji, a thin gruel used as breakfast porridge. It is also used as a stuffing ingredient for cabbage rolls in some countries.

Millet is tasty, with a mildly sweet, nut-like flavor and contains a myriad of beneficial nutrients. It is nearly 15% protein, contains high amounts of fiber, B-complex vitamins including niacin, thiamin, and riboflavin, the essential amino acid methionine, lecithin, and some vitamin E. It is particularly high in the minerals iron, magnesium, phosphorous, and potassium. Millet is the yellow, round seed in nearly all birdfeeds. It may be the first cultivated grain, preceding rice as a staple in China, India, and Africa. It is still commonly eaten in those areas and is making a comeback as a human food in Western countries. Of several types, pearl millet has the largest seeds and is most common. It is always whole-grain, and can be used like rice, in soups or to make bread. Relative to calories, millet contains adequate amounts of 24 out of 35 nutrients shown here, especially copper, manganese, phosphorus, magnesium, thiamin, niacin, and vitamin B6.
Proximates
Water

g

124.25

Energy

kcal

207

Energy

kj

867

Protein

g

6.11

Total lipid (fat)

g

1.74

Ash

g

0.71

Carbohydrate, by difference

g

41.19

Fiber, total dietary

g

2.3

Sugars, total

g

0.23

Minerals
Calcium, Ca

mg

5

Iron, Fe

mg

1.10

Magnesium, Mg

mg

77

Phosphorus, P

mg

174

Potassium, K

mg

108

Sodium, Na

mg

3

Zinc, Zn

mg

1.58

Copper, Cu

mg

0.280

Manganese, Mn

mg

0.473

Selenium, Se

mcg

1.6

Vitamins
Vitamin C, total ascorbic acid

mg

0.0

Thiamin

mg

0.184

Riboflavin

mg

0.143

Niacin

mg

2.314

Pantothenic acid

mg

0.298

Vitamin B-6

mg

0.188

Folate, total

mcg

33

Folic acid

mcg

0

Folate, food

mcg

33

Folate, DFE

mcg_DFE

33

Vitamin B-12

mcg

0.00

Vitamin A, IU

IU

5

Vitamin A, RAE

mcg_RAE

0

Retinol

mcg

0

Vitamin E (alpha-tocopherol)

mg

0.03

Vitamin K (phylloquinone)

mcg

0.5

Lipids
Fatty acids, total saturated

g

0.299

4:0

g

0.000

6:0

g

0.000

8:0

g

0.000

10:0

g

0.000

12:0

g

0.002

14:0

g

0.000

16:0

g

0.219

18:0

g

0.064

Fatty acids, total monounsaturated

g

0.320

16:1 undifferentiated

g

0.005

18:1 undifferentiated

g

0.306

20:1

g

0.009

22:1 undifferentiated

g

0.000

Fatty acids, total polyunsaturated

g

0.884

18:2 undifferentiated

g

0.835

18:3 undifferentiated

g

0.049

18:4

g

0.000

20:4 undifferentiated

g

0.000

20:5 n-3

g

0.000

22:5 n-3

g

0.000

22:6 n-3

g

0.000

Cholesterol

mg

0

Amino acids
Tryptophan

g

0.066

Threonine

g

0.197

Isoleucine

g

0.258

Leucine

g

0.776

Lysine

g

0.117

Methionine

g

0.122

Cystine

g

0.117

Phenylalanine

g

0.322

Tyrosine

g

0.188

Valine

g

0.320

Arginine

g

0.212

Histidine

g

0.130

Alanine

g

0.546

Aspartic acid

g

0.402

Glutamic acid

g

1.328

Glycine

g

0.160

Proline

g

0.485

Serine

g

0.357

Other
Alcohol, ethyl

g

0.0

Caffeine

mg

0

Theobromine

mg

0

Carotene, beta

mcg

3

Carotene, alpha

mcg

0

Cryptoxanthin, beta

mcg

0

Lycopene

mcg

0

Lutein + zeaxanthin

mcg

122
USDA National Nutrient Database for Standard Reference, Release 16-1 (2004)