CORNMEAL, degermed, enriched, yellow
Scientific Name:     Zea Mays, family poaceae, commonly known as Maize.
NDB No:     20022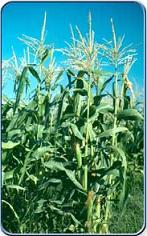 Corn, a major source of food for both humans and animals, is grown in more countries than any other crop. The versatile plant can thrive in climates as diverse as the arid desert plains of the southwestern United States and the high Andean mountain plains of Ecuador and Peru. The temperate plains of the United States provide some of the best growing conditions for corn in the world, making the U.S. the world's top corn producer.
Proximates
Water

g

11.59

513

0.049

Energy

kcal

366

0

0

Energy

kj

1531

0

0

Protein

g

8.48

127

0.06

Total lipid (fat)

g

1.65

128

0.032

Ash

g

0.60

127

0.01

Carbohydrate, by difference

g

77.68

0

0

Fiber, total dietary

g

7.4

0

0

Sugars, total

g

0.64

1

0

Minerals
Calcium, Ca

mg

5

8

1.366

Iron, Fe

mg

4.13

207

0.055

Magnesium, Mg

mg

40

8

5.045

Phosphorus, P

mg

84

8

10.675

Potassium, K

mg

162

24

13.315

Sodium, Na

mg

3

114

0.637

Zinc, Zn

mg

0.72

27

0.058

Copper, Cu

mg

0.078

23

0.006

Manganese, Mn

mg

0.105

3

0.006

Selenium, Se

mcg

7.8

13

0.965

Vitamins
Vitamin C, total ascorbic acid

mg

0.0

0

0

Thiamin

mg

0.715

128

0.014

Riboflavin

mg

0.407

129

0.009

Niacin

mg

5.034

133

0.109

Pantothenic acid

mg

0.312

25

0.023

Vitamin B-6

mg

0.257

5

0.041

Folate, total

mcg

233

21

39.25

Folic acid

mcg

185

0

0

Folate, food

mcg

48

23

3.385

Folate, DFE

mcg_DFE

363

0

0

Vitamin B-12

mcg

0.00

0

0

Vitamin A, IU

IU

214

3

0

Vitamin A, RAE

mcg_RAE

11

3

0

Retinol

mcg

0

0

0

Vitamin E (alpha-tocopherol)

mg

0.15

0

0

Vitamin K (phylloquinone)

mcg

0.3

0

0

Lipids
Fatty acids, total saturated

g

0.225

0

0

4:0

g

0.000

0

0

6:0

g

0.000

0

0

8:0

g

0.000

0

0

10:0

g

0.000

327

0

12:0

g

0.001

327

0

14:0

g

0.001

327

0

16:0

g

0.186

327

0

18:0

g

0.025

327

0

Fatty acids, total monounsaturated

g

0.412

0

0

16:1 undifferentiated

g

0.005

327

0

18:1 undifferentiated

g

0.407

327

0

20:1

g

0.000

0

0

22:1 undifferentiated

g

0.000

0

0

Fatty acids, total polyunsaturated

g

0.710

0

0

18:2 undifferentiated

g

0.690

327

0

18:3 undifferentiated

g

0.020

327

0

18:4

g

0.000

0

0

20:4 undifferentiated

g

0.000

0

0

20:5 n-3

g

0.000

0

0

22:5 n-3

g

0.000

0

0

22:6 n-3

g

0.000

0

0

Cholesterol

mg

0

0

0

Other
Alcohol, ethyl

g

0.0

0

0

Caffeine

mg

0

0

0

Theobromine

mg

0

0

0

Carotene, beta

mcg

97

3

0

Carotene, alpha

mcg

63

3

0

Cryptoxanthin, beta

mcg

0

3

0

Lycopene

mcg

0

3

0

Lutein + zeaxanthin

mcg

1355

3

0
USDA National Nutrient Database for Standard Reference, Release 16-1 (2004)