Blackerries, raw
Scientific Name:     Rubus spp.
NDB No:     09042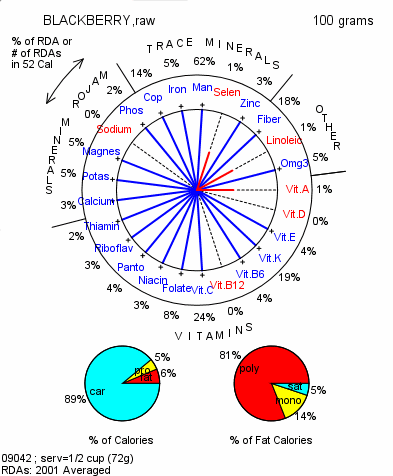 BLACKBERRIES are unusually rich in antioxidant polyphenols, tannins, and other protective substances. They ripen in summer, but frozen berries are always available. Try them in fruit salads, on cereal and pancakes, and in smoothies.

Their small fat content is notably polyunsaturated and of the omega-3 type. They contain about 5% protein and thus amino acids, but in unreported amounts (question marks). Relative to their few calories, blackberries contain adequate amounts of most nutrients shown. Jam is a poor source; a tablespoon might contain one berry but more calories than 1/2 cup of berries.

The blackberry is actually an ancient fruit, prescribed by the Ancient Greeks for gout, mentioned in the Bible, and commonly written about in British folklore.

Wild blackberries are relatives of the rose and the soft, juicy fruit grows on thorny bushes or trailing vines. Just like a raspberry, the blackberry is called an "aggregate fruit" because each berry is really a cluster of tiny fruits, or druplets. Each druplet has a seed, and, unlike raspberries, blackberry druplets remain centered around the core even after the berry is picked.

Blackberries abound in antioxidants, such as anthocyanin pigments, responsible for the purplish-black color of blackberries and may impart health benefits because of their antioxidant properties. Additional antioxidants in blackberries are vitamins C and E, and ellagic acid; all may provide protection against cancer and chronic disease. Cooking does not seem to destroy ellagic acid, so even blackberry jams and desserts retain ellagic acid health benefits. Interestingly, blackberries are a natural source of salicylate, an active substance found in aspirin. Potential benefits have yet to be explored and some experts advise caution to particularly aspirin-sensitive individuals. Because of their many tiny seeds, blackberries are a source of soluble fiber, such as pectin.
Proximates
Water

g

63.47

Energy

kcal

31

Energy

kj

130

Protein

g

1.00

Total lipid (fat)

g

0.35

Ash

g

0.27

Carbohydrate, by difference

g

6.92

Fiber, total dietary

g

3.8

Sugars, total

g

3.51

Sucrose

g

0.05

Glucose (dextrose)

g

1.66

Fructose

g

1.73

Lactose

g

0.00

Maltose

g

0.05

Galactose

g

0.02

Starch

g

0.00

Minerals
Calcium, Ca

mg

21

Iron, Fe

mg

0.45

Magnesium, Mg

mg

14

Phosphorus, P

mg

16

Potassium, K

mg

117

Sodium, Na

mg

1

Zinc, Zn

mg

0.38

Copper, Cu

mg

0.119

Manganese, Mn

mg

0.465

Selenium, Se

mcg

0.3

Vitamins
Vitamin C, total ascorbic acid

mg

15.1

Thiamin

mg

0.014

Riboflavin

mg

0.019

Niacin

mg

0.465

Pantothenic acid

mg

0.199

Vitamin B-6

mg

0.022

Folate, total

mcg

18

Folic acid

mcg

0

Folate, food

mcg

18

Folate, DFE

mcg_DFE

18

Vitamin B-12

mcg

0.00

Vitamin A, IU

IU

154

Vitamin A, RAE

mcg_RAE

8

Retinol

mcg

0

Vitamin E (alpha-tocopherol)

mg

0.84

Tocopherol, beta

mg

0.03

Tocopherol, gamma

mg

0.96

Tocopherol, delta

mg

0.65

Vitamin K (phylloquinone)

mcg

14.3

Lipids
Fatty acids, total saturated

g

0.010

4:0

g

0.000

6:0

g

0.000

8:0

g

0.000

10:0

g

0.000

12:0

g

0.000

14:0

g

0.000

16:0

g

0.009

18:0

g

0.002

Fatty acids, total monounsaturated

g

0.034

16:1 undifferentiated

g

0.000

18:1 undifferentiated

g

0.032

20:1

g

0.003

22:1 undifferentiated

g

0.000

Fatty acids, total polyunsaturated

g

0.202

18:2 undifferentiated

g

0.134

18:3 undifferentiated

g

0.068

18:4

g

0.000

20:4 undifferentiated

g

0.000

20:5 n-3

g

0.000

22:5 n-3

g

0.000

22:6 n-3

g

0.000

Cholesterol

mg

0

Other
Alcohol, ethyl

g

0.0

Caffeine

mg

0

Theobromine

mg

0

Carotene, beta

mcg

92

Carotene, alpha

mcg

0

Cryptoxanthin, beta

mcg

0

Lycopene

mcg

0

Lutein + zeaxanthin

mcg

85
USDA National Nutrient Database for Standard Reference, Release 17 (2004)