APPLE, unpeeled, raw
Scientific Name:     Malus sylvestris
NDB No:     09003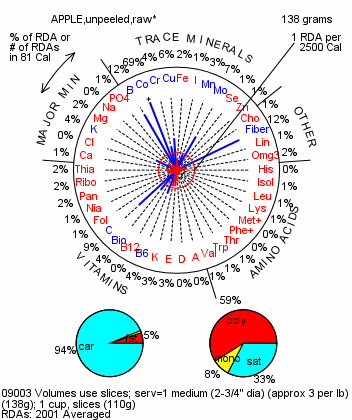 APPLE, the nutrient values listed for apples are based upon a medium apple which weighs a little over 5 ounces (3 apples to the pound).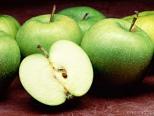 Whether you buy Empire, Fuji, Gala or Jonagold, an apple this size provides about 80 calories and a very respectable five grams of dietary fiber, as long as you eat the peel. Pare the apple and dietary fiber drops to about 3.5 grams. Current nutritional guidelines recommend we consume 25 to 30 grams of dietary fiber daily. Two medium, unpared apples provide about half that amount.

The "typical" apple in the grocery store bulk bin is often larger than those listed in exchange lists for diabetic meal plans or calorie-counting guides. In the bins, apples often weigh 8 ounces, providing close to 120 calories each.

If you eat two of these larger apples and count them as only a total of 120 calories (2 fruit exchanges), you've underestimated your energy intake by over 100 calories. Apples that weigh 3 to 4 ounces (4 per pound) fit the 60-calorie apples in exchange lists.

Apples contain only a small amount of vitamin C and virtually no vitamin A, two nutrients we depend on fruits and vegetables to provide. On the positive side, apples are virtually fat-free, provide modest amounts of potassium, and add to our fiber intake.
Proximates
Water

g

118.07

Energy

kcal

72

Energy

kj

301

Protein

g

0.36

Total lipid (fat)

g

0.23

Ash

g

0.26

Carbohydrate, by difference

g

19.06

Fiber, total dietary

g

3.3

Sugars, total

g

14.34

Sucrose

g

2.86

Glucose (dextrose)

g

3.35

Fructose

g

8.14

Lactose

g

0.00

Maltose

g

0.00

Galactose

g

0.00

Starch

g

0.07

Minerals
Calcium, Ca

mg

8

Iron, Fe

mg

0.17

Magnesium, Mg

mg

7

Phosphorus, P

mg

15

Potassium, K

mg

148

Sodium, Na

mg

1

Zinc, Zn

mg

0.06

Copper, Cu

mg

0.037

Manganese, Mn

mg

0.048

Selenium, Se

mcg

0.0

Vitamins
Vitamin C, total ascorbic acid

mg

6.3

Thiamin

mg

0.023

Riboflavin

mg

0.036

Niacin

mg

0.126

Pantothenic acid

mg

0.084

Vitamin B-6

mg

0.057

Folate, total

mcg

4

Folic acid

mcg

0

Folate, food

mcg

4

Folate, DFE

mcg_DFE

4

Vitamin B-12

mcg

0.00

Vitamin A, IU

IU

75

Vitamin A, RAE

mcg_RAE

4

Retinol

mcg

0

Vitamin E (alpha-tocopherol)

mg

0.25

Tocopherol, beta

mg

0.00

Tocopherol, gamma

mg

0.00

Tocopherol, delta

mg

0.00

Vitamin K (phylloquinone)

mcg

3.0

Lipids
Fatty acids, total saturated

g

0.039

4:0

g

0.000

6:0

g

0.000

8:0

g

0.000

10:0

g

0.000

12:0

g

0.000

14:0

g

0.001

16:0

g

0.033

18:0

g

0.004

Fatty acids, total monounsaturated

g

0.010

16:1 undifferentiated

g

0.000

18:1 undifferentiated

g

0.010

20:1

g

0.000

22:1 undifferentiated

g

0.000

Fatty acids, total polyunsaturated

g

0.070

18:2 undifferentiated

g

0.059

18:3 undifferentiated

g

0.012

18:4

g

0.000

20:4 undifferentiated

g

0.000

20:5 n-3

g

0.000

22:5 n-3

g

0.000

22:6 n-3

g

0.000

Cholesterol

mg

0

Phytosterols

mg

17

Amino acids

&nbsp

&nbsp

Tryptophan

g

0.001

Threonine

g

0.008

Isoleucine

g

0.008

Leucine

g

0.018

Lysine

g

0.017

Methionine

g

0.001

Cystine

g

0.001

Phenylalanine

g

0.008

Tyrosine

g

0.001

Valine

g

0.017

Arginine

g

0.008

Histidine

g

0.007

Alanine

g

0.015

Aspartic acid

g

0.097

Glutamic acid

g

0.035

Glycine

g

0.012

Proline

g

0.008

Serine

g

0.014

Other
Alcohol, ethyl

g

0.0

Caffeine

mg

0

Theobromine

mg

0

Carotene, beta

mcg

37

Carotene, alpha

mcg

0

Cryptoxanthin, beta

mcg

15

Lycopene

mcg

0

Lutein + zeaxanthin

mcg

40
USDA National Nutrient Database for Standard Reference, Release 16-1 (2004)