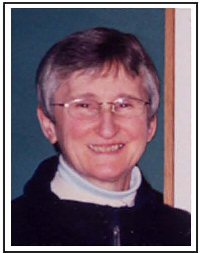 Sister Theresa Feist
b.1942
Hall of Fame 2006

"I'd like the whole world to know schizophrenia is an illness as physical as a broken leg."
—Sister Theresa Feist

Born in northern Saskatchewan, the fifth of twelve children, Theresa attended multi-grade classrooms and St. Angela's Academy, a residential high school, where she entered the community of Ursuline Sisters and began a 17 year teaching career. In 1970 she became severely depressed and suicidal. She was later diagnosed with schizophrenia and was referred to Dr. Abram Hoffer.

On a sugar-free diet and niacin, she had a remarkable, rapid recovery. How to Live with Schizophrenia by Hoffer and Osmond became the precious book that gave her insight into her illness. Moved to share her story with others, in 1979 Theresa wrote Schizophrenia Cured, a valuable case history and source of hope and inspiration. Theresa also wished to establish a place to provide shelter and orthomolecular support for the mentally ill.

She shared her dream with George Morris (1904 - 1989), a Saskatchewan businessman and a director of the CSF, whom she met at a CSF Conference; he financed the first Morris Centre which opened in Winnipeg, Manitoba, in 1981. Here Theresa and another devoted lady, Mabel Fowler, carried on the ministry of teaching and accompanying all who came to learn a new lifestyle for good health. Eighteen years later, with the help of Frank Flaman, the centre was moved to Lebret, Saskatchewan and renamed the Flaman-Morris Home. This lovely residence, employing three full-time and two part-time staff, can house up to eight people seeking guidance and nutritional care. In the foreword to her book, Schizophrenia Cured, Dr. Hoffer wrote: "All of us in the field of orthomolecular psychiatry, including doctors, patients and families, depend upon the hard work of the Sister Theresas of the world, the people who move mankind."