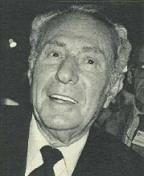 Emanuel Cheraskin, M.D., D.M.D.
1916-2001
Hall of Fame 2005

"Man is a food-dependent creature. If you don't feed him, he will die. If you feed him improperly, part of him will die."
— Emanuel Cheraskin

Emanuel Cheraskin, born in Philadelphia, received his M.D. from the University of Cincinnati College of Medicine. He was awarded his D.M.D in the first graduating class of University of Alabama School of Dentistry, where he would stay on for several decades as Chairman of the Department of Oral Medicine. Dr. Cheraskin was among the very first to recognize and demonstrate that oral health indicates total body health. He wrote over 700 scientific articles and authored or coauthored 17 textbooks, plus eight more books for the public, including the bestseller "Psychodietetics: Food as the Key to Emotional Health." His last two books, Vitamin C: Who Needs It? and Human Health and Homeostasis were published when he was past eighty. In addition to being a professor, physician and prolific author, Dr. Cheraskin was a singularly popular speaker. "Health is the fastest growing failing business in western civilization," he said. "Why is it so many of us are 40 going on 70, and so few 70 going on 40?" The answer, he said, was our neglect of the paramount value of nutrition, an educational deficiency that Dr. Cheraskin devoted a lifetime to eradicating. Longtime friend Dr. Abram Hoffer writes: "Emanuel Cheraskin was a great scientist, investigator and physician. His papers are models of brevity, scientific clarity and productivity."

Dr. Cheraskin's educational legacy continues through the Cheraskin Archive in upstate New York, which contains the doctors lecture slides and copies of his papers in the care of Andrew Saul. His complete bibliography of books and papers is posted online at www.doctoryourself.com/biblio_cheraskin.html.

"Cherri," a regular speaker at the Nutritional Medicine Today Conferences, was always informative and entertaining. He last presented in Vancouver for our 25th conference in 1996, where he received the Orthomolecular Medicine Physician of the Year Award.